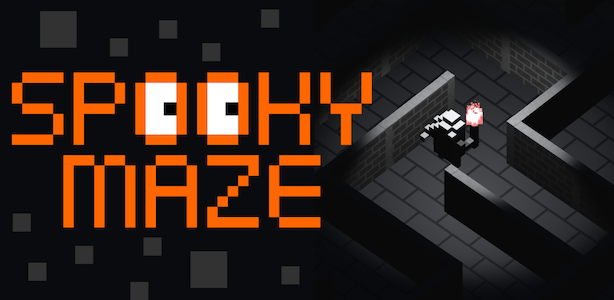 Factsheet
Developer:
Maple Mana
Based in Kitcher, Ontario
Release date:
September 28th, 2021
Platforms:
iOS
Website:
Regular Price:
Free with ads and IAP
Description
Spooky Maze features 1000s of unique mazes in sizes ranging from 8 x 8 to 24 x 24 over 3 unique games types - Classic, Dungeon & Cursed House. The player's goal is to find the maze exit, before their light dies. However, in Dungeon players must also find the key to unlock the exit. While in Cursed House, players must also try to avoid the wandering ghosts that will steal some of their light, but they can pick up oil drums to gain some light back.
History
We started building Spooky Maze part-time in January of 2020 when Dan was still in the mood for spooky. We were very excited to release it on September 28th of 2021 :)
Features
Touch and button controls
10000s of mazes to escape
Difficulty comes from the sizes - 8x8 to 26x26
12 new mazes added daily
3 unique game modes
Game Center on iOS
Voxel artsyle
Videos
Spooky Maze - Teaser Trailer
Spooky Maze - Release Trailer
About Maple Mana
Boilerplate
Maple Mana is a Canadian independent game studio run by Dan Currie and with a little help from their friends, they're making games for iOS and Android devices
3720 to 1 Credits
Dan Currie
Andrii Denysenko
Developer
Alisa Vynohradova
Developer